INTRODUCING THE NEW SKYCADDIE
®

 

SX500:
UNMATCHED POWER WITH THE BEST VIEW IN GOLF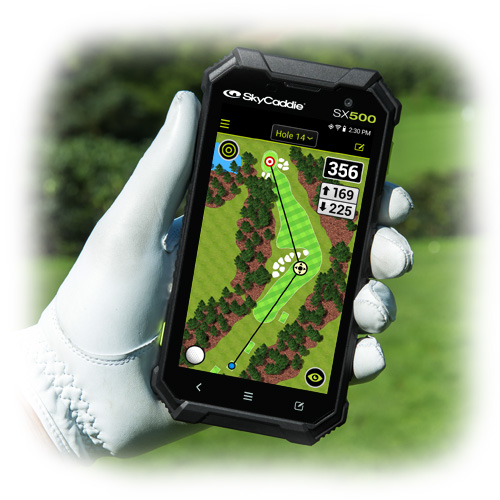 GOLF'S MOST BRILLIANT DISPLAY
With its 5-inch, full high-definition touch screen driven by an ultra-fast multi-core processor, the SkyCaddie® SX500 is the most powerful way to measure yardage while providing the very "best view" in golf with vivid graphics and super large numbers you can trust.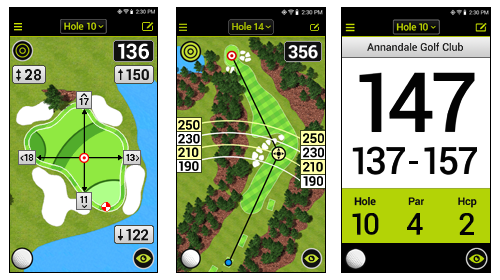 RUGGED & WATER-RESISTANT
The SkyCaddie® SX500 comes in a highly water-resistant, rugged design to stand up to most anything that comes its way on the course. With the largest battery in the industry, the SX500 is ready for extended playing time for that emergency 9, or even 18 more holes. Using multi-constellation navigation satellite systems, the SX500 provides enhanced accuracy and overall better performance under tough conditions or tree cover.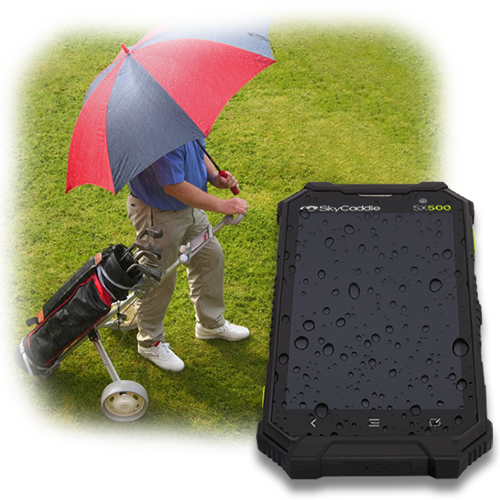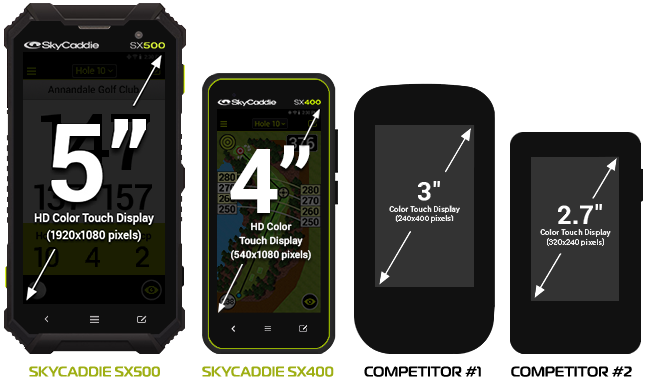 A STUNNING VISUAL EXPERIENCE
The powerful features of the SkyCaddie® SX500 are easily tapped with its large 5", intuitive touch screen and a host of automated features such as Auto-Course Selection, Auto-Hole Advance and Auto-Zoom, making it basically "touch-free" from the parking lot to the 19th hole. The large HD display combined with HD quality course graphics, only available from SkyCaddie, provide the best view of the most-reliable information in the game to allow you to play your best golf.
DYNAMIC HOLEVUE
NEW
And now, the powerful processor of the SX500 allows SkyCaddie® to introduce Dynamic HoleVue™, which automatically re-orients the entire golf hole from your position to the green as you progress from the tee. So, in addition to SkyCaddie's patented IntelliGreen® technology, golfers can now see the entire hole from their point-of-view... only from SkyCaddie!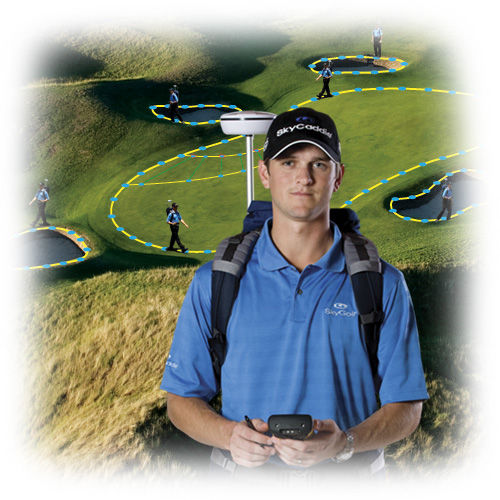 GROUND-VERIFIED COURSE MAPS
The SkyCaddie® SX500 comes preloaded with over 35,000 ground-verified, error-corrected courses without the short-cuts taken by the competition. Only SkyCaddie walks each course to record thousands of points with sub-meter precision because we know that you cannot trust your club if you cannot trust your distances. Knowing and TRUSTING critical distances lets you manage your game and eliminate those 6, 7, and 8's from your scorecard!
Try SkyCaddie's SX500 and you will quickly SEE MORE, PLAY BETTER and HAVE MORE FUN than ever before.
Nothing Else Comes Close!®